Camping site is located at the foot of the Southern Alps Kai Komagatake.
This area is known as a village of the famous pure water.
Campground which is located in the forest is cool and comfortable.
Ground of camping site is fine small gravel. The drainage is very good and comfortable.

You'll be impressed by the great nature.
Views of the mountains are splendid and river is pure clear water.
It's best as a playground. For an adult as well as a child.

You'll be impressed by the seasons of Japan. Spring of fresh green, summer glow, autumn leaves.
You can enjoy throughout the year.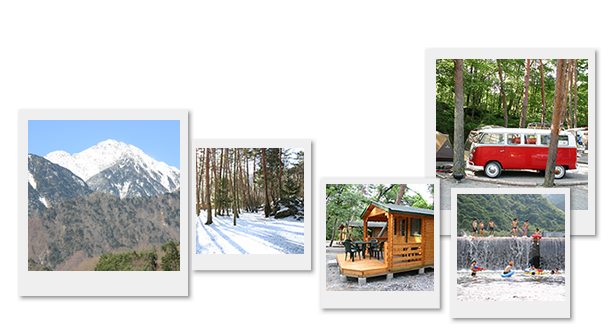 Friendly staff will welcome everyone by fine hospitality.
Camping site of environment
Altitude 750m Flat red pine, wooded area
Opening period
We are open from 4/13 to 12/
Registration
Check in time 13:00 to 18:00 (Trailer house PM 14:00)
Check out time 11:00 (Trailer house AM 10:30)
Accommodations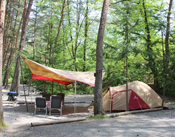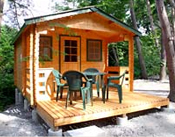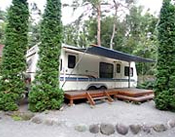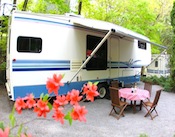 Equipment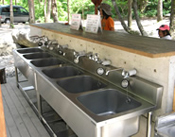 Cooking space with hot water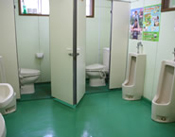 Flush toilet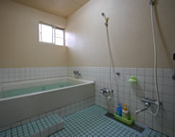 Bath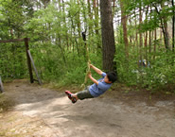 Playground
Rules and manners
Please refrain from going out in the car from 21:00 to 7:00.
(Except in the case of emergency, if you plan early morning departure, please contact us in advance.)
Lights will be turned off at 10 p.m. Please be quiet after 9 p.m. Also be careful when opening and closing car doors.
We are asking for your consideration to protecting nature.
For example, put some newspaper or a towel around the tree before tying a rope.
Keep your pet on a lead and responsibly dispose and manage your pet's dung, and please refrain from going outside by leaving your pet alone.
Prohibited Matters
· Bonfire over an open fire.
· Rocket fireworks, firecrackers.
Handheld (consumer) fireworks are allowed. Be considerate to the direction of the smoke when using those and please be sure to end by 9 p.m.
Please first check at the reception as there are designated places to play.
· Noise ・・・the use of radio-cassette recorders, CDs is forbidden.
· Please shut off the engine when your car is parked.
Fee tablle
Accommodation
Capacity
Fee
Auto camping site
Auto camping site (high season)
※1
※2
5 people
5,500 yen
6,500 yen
Log cabin /no deck
Log cabin /no deck (high season)
※2
5 people
9,800 yen
10,800 yen
Log cabin /with deck
Log cabin /with deck (high season)
※2
5 people
13,800 yen
14,800 yen
Stationary US-made trailer 29 feet
5 people
22,000 yen
Stationary US-made trailer 35 feet
5 people
24,000 yen
We receive 150 yen per person as environmental sanitation fee per site per night
【※1】1 site is for a 1 tent, 1 tarp, 1 car and a maximum of 5 people.
【※2】High seasons for auto-camping are during the Golden Week (late April to early May), the consecutive holidays in July, September and October and November, and during summer holidays.
【※3】1,300 yen per person for more than 3 bikes, 1,800 yen per people for up to 2 bikes.
Cancellation Policy
Auto camping
Accommodation
From 7 days ago※
20%
From 14 days
20%
From 3 days
50%
From 7 days
50%
The day
100%
The day
100%
If there is no contact
100%
If there is no contact
100%
※

Cancellation fees for auto camping are charged for cancellation made 3 days prior to the date reserved, and 7 days prior to the date reserved during high seasons.
However, no fee is charged in the event we decide to close the camping site in case of disasters like typhoons, etc.
Cancellations fees are charged for any change of schedule made during the period for which cancellation fees are incurred.
Please make a separate inquire regarding any cancellation of more than 3 sites.
Any cancellation made after 5:00 p.m. are considered as cancellation made on the following day.
現在地:  

AUTO RESORT PARK BIGLAND ENGLISH INFORMATION